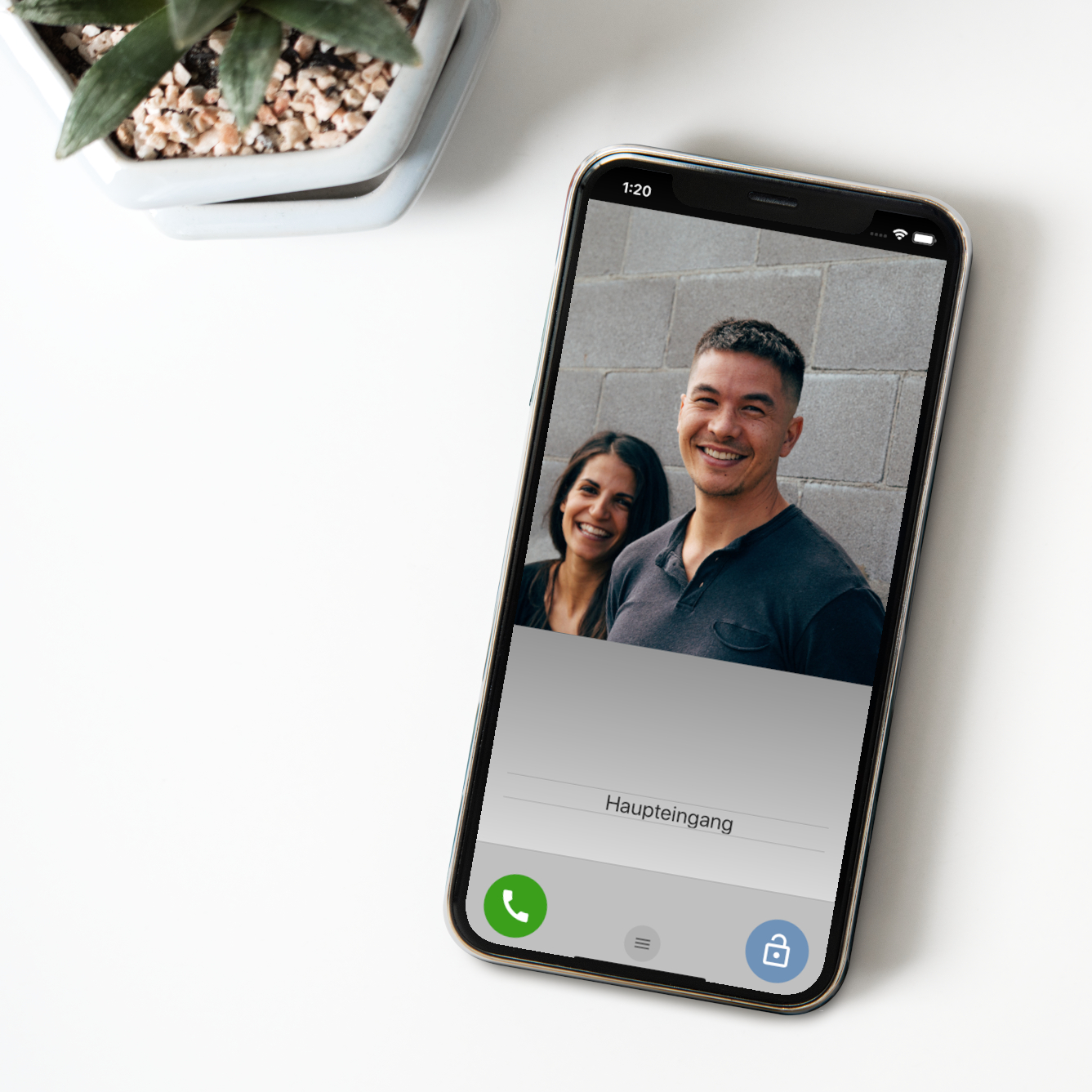 ESENTA SIAS, the smart
door phone with access control
ESENTA opens up new possibilities for you and offers more than just a networked door intercom system. ESENTA SIAS is a platform for a wide range of helpful applications that far exceeds the functional scope of a classic door intercom system.
With the help of our Android and iOS app, you remain in reach for your visitors everywhere you go and stay connected to your home.
The free ESENTA app shows you a video stream from the high-resolution wide-angle camera and allows you to talk to your visitor via two-way audio communication. Real-time notifications are sent to your smartphone or tablet as soon as someone is at the door.
Touch screen for any number of nameplates. With alphabetical filter and an intuitive user interface.
You can gain access by placing NFC cards or keyfobs on the sensor, secure thanks to MIFARE DesFire support.
Control access to your home from any place you are - without the hassle and insecurity of sharing physical keys.
Open the door with one touch,
as part of 2-factor authentication for increased security.
High-resolution 180° camera equipped with IR light for night vision. Keep an eye on your homes entrance at all times.
The outdoor station, equipped with a high-quality stainless steel cover, is waterproof and easy to integrate into your exterior wall.
Perfectly suited for use in
Commercial real estate &
Multi-party buildings
Thanks to comprehensive software, ESENTA SIAS is also the perfect solution for multi-party buildings and companies with high passenger traffic. You are able to limit access times and also manage them remotely.
Camera stream

Video images can be accessed simultaneously from multiple users worldwide and can be integrated into other systems via standardised interfaces.
Concierge service
Visitors reach the right contact directly, without detours, and simplify workflows.
Information display

Easily display opening hours, logos of your company or other relevant information to your clients on the digital display.
Time control

Specify time windows during which people, visitors or employees can access the building.
Ease of use
Change your settings at any time via an easy-to-use web or smartphone app. Configure your door intercom according to your needs, set the name of your doorbell plate, the ringtone or the background image with one click.
Increased security
In times of increased incidences of burglaries, you can use ESENTA to monitor properties. The integrated PIR sensor detects movements in its vicinity and takes images or videos, which can then be sent immediately to your smartphone via our app or email.
Automated entrance
The access of individual people can be controlled via ESENTA. Do you have tradesmen in your house? Why not grant them access using one of the supported authentication methods? With ESENTA, it is possible to register the entry and exit of visitors and stay informed at all times.
Cloud-use optional

With ESENTA you have the choice of using your own SIP server, an external SIP server or just our cloud service with the associated smartphone app.
The cloud function can be completely switched off and ESENTA SIAS can be used without an active internet connection when using its own SIP server.